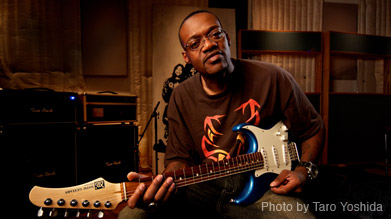 The Big, Bad, Bold and Beautiful describe one of today's premier blues master, Eric Gales. To celebrate his "Transformation", EWS is proud to release the limited edition EWS signature model Eric Gales Brute Drive. Housed in black chrome, the Eric Gales Brute Drive makes a statement, "Watch out!! The tone train's a comin'!!"
Don't let the simple design fool you! It's complex tonal character is not subtle. From crunch, to mean, to down right dirty; Eric Gale's new signature Brute Drive is serious tone! But you better hurry, only 500 of these black & silver beauties will be made. Each pedal comes in its own collectors box with Eric Gale's signature pick, certificate of authenticity and free download of "Sea of Bad Blood", from Eric's latest CD "Transformation".
If you want the "Raw Dawg" sound, get the new EWS signature model Eric Gales Brute Drive! In stores, November 2011.