This cloth with micro abrasive compound will remove rust and stains and polish your instrument.
[For Metal] Use this cloth for rusty, dull metal parts like frets and bridges! [For Plastic] Use this cloth for dirty plastic parts like pick guards and knobs!
[Instructions]
* Polish dirty area lightly and gently.
* After polishing, adequately wipe the surface with soft and clean dry cloth or tissue paper.
* The cloth will turn black after polishing metal parts, but the cleaning effect will remain almost the same.
* Do not wash in water. Active substance will wash off.
* For severe stain, spray small amount of water onto the cloth for more polishing effect.
* Do not use this product for wooden parts.
[Warnings]
* Please wear thin gloves if you have sensitive skin.
* Plated products have thin film. Do not over polish.
* Misuse of this product may leave streaks. Test before using.
* Do not polish if:
1. The instrument is brand new or has a near-mint condition shine.
2. The instrument has matted finish like "Satin finish" of "Pearskin finish".
Choose "For Metal" or "For Plastic"
MSRP: $9.00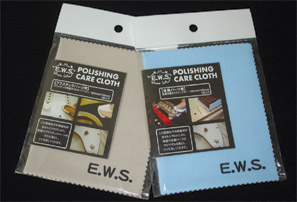 Left: For plastic parts Right: For metal parts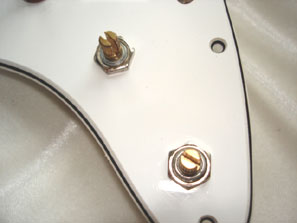 Use of cloth for metal parts- example 2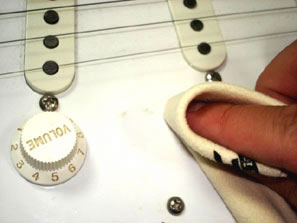 Use of cloth for plastic parts- example 1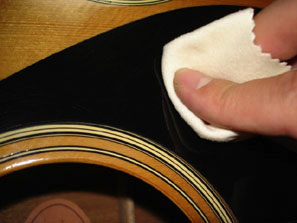 Use of cloth for plastic parts- example 2