Wah Board Special
for Cry Baby, VOX, Xotic Wah
Because of the Wah Pedal's rubber feet, it was difficult to mount it securely to the pedal board.The Wah Board Special will relieve you of any stress associated with a poorly mounted wah!! There is no need to modify the Wah and the mounting method is simple. It mounts directly on top of the original bottom panel.Recessed screw holes provide a smooth surface for mounting. Now there's nothing protruding, rubber feet or screws, to get in the way of the wah adhering solidly to the pedal board.
Available for both Cry Baby type and VOX (new) type as follows.

* Cry Baby type: Jim Dunlop Cry Baby (size for GCB-95 type), Old Vox without AC Jack, Budda, RMC
* VOX New Type: New Vox with AC Jack
* Fulltone Type: Fulltone
* Xotic Type : Xotic
* RAT Type: RAT (size for RAT2 type)

Note: It may not be usable depending on the production lot due to the specification change.
Please purchase after checking with the manufacturer of your pedal in advance such as dimensions.

MSRP: $20.00

Note:
*When mounting it on the Cry Baby, please make sure to remove the battery box cover.
*Velcro tape is not included.
*For the Xotic Wah, the back cover is convex depending on production time. If you have this individual, please reverse the back cover and use it.
STEP1: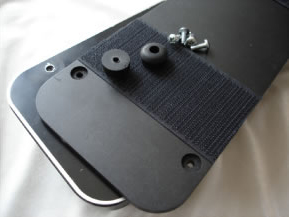 Remove the rubber feet from the Wah and place the screws aside.
STEP2: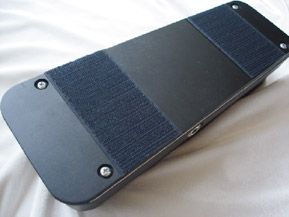 Place the Wah Board Special over the bottom panel and replace the screws. After you have glued the Velcro on the back, it's to be set on the pedal board.